September 4 - 14, 2011
I was pleased to learn that our 50th Marshfield High School reunion had been postponed to September because I retired from TSU effective 8/31/11. With only a short time to prepare for the 3000 mile journey, I didn't plan as effectively as I should, but, for the most part the trip went well with only a few snags. Beh had to leave her shop and hire someone to fill in for her for the time we were gone. Because transferring to and from my wheelchair is so difficult and my constant need for water, and other things is so tiring we enlisted the help of Tommie McNeil, a friend we met from Galveston on a cruise. Tommie proved to be invaluable, not only because he filled in for many small tasks, but because, with his phone, he was able to take the fabulous pictures you see here chronicling our journey.
9/4/11 --
We left Houston about 9:30 AM . Tropical Storm Lee was moving into New Orleans and as we headed up US 59 we were on its backside with gusty headwinds and occasional light showers. As we were driving through Marshall Texas while Tommie was texting and Beh was sleeping in the back seat, I saw fire burning the dead grass in a vacant lot next to a house with similar dried grass. The wind was still gusty and the brush underneath the pine trees in the area was tinder dry. As soon as we got in Arkansas things got greener. We stopped in Little Rock at 6 PM to check on the distance to our West Memphis hotel. Finally, driving in through heavy rain and wind with my windshield wiper coming apart, we arrived to our our hotel at 9 PM after missing the exit and wasting a half hour getting back. .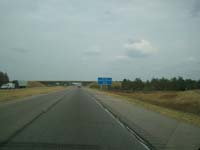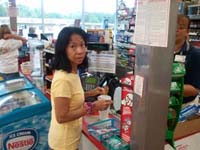 9/5/11
-- I made the wrong decision and drove to Uncle Bruce's via Nashville rather than taking US 51 north of Memphis to the Western Kentucky Parkway. On the way to Nashville, we were buffeted by winds from Tropical Storm Lee and occasional rain. But worse was the "wall" presented by the load and the wind on my van in overdrive trying to make the mountains, sometimes only reaching the summit at 40 mph and then speeding up down the backside to reach 70 mph again. I was glad to get off Interstate 65 and take a long drive on Kentucky 259 two Bruce's Homestead.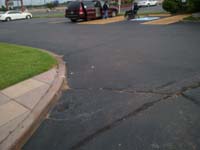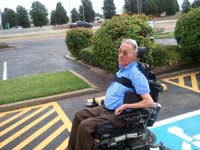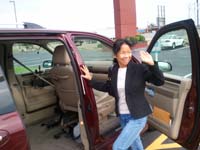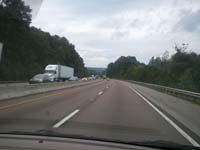 I had turn by turn directions but failed to have Tommie take them out and follow them. I turned too soon and soon found us in an unfamiliar churchyard. Retracing our steps, we saw a flock of hen turkeys in a yard and stopped to ask directions. Tommie was told to go "straightahead for 4 miles before turning." About 2 miles down the road, 259 turned north. I stopped momentarily, but made the mistake of staying on 259. Before long we were at the Parkway and 20 miles from Bruce's place. Because I was so stressed from driving in the wind and mountains and it was getting late, I made a horrible decision to go on to Louisville. I called Bruce and apologized but it wasn't enough.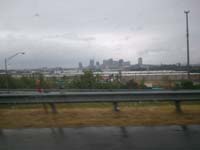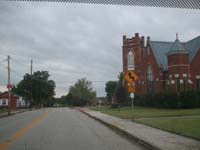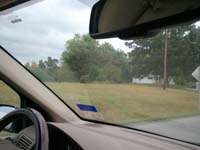 We got to our hotel in Clarksville, Indiana about 7 PM. We called a Behram and Gool and they took us to the King Fish restaurant on the Ohio River across from Louisville in New Albany. We had great seafood far from the sea, pleasant conversation, and a relaxing end to our stressful day.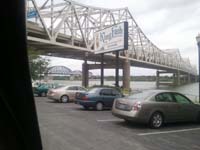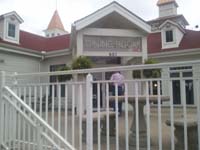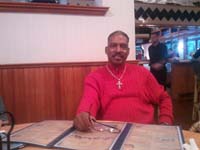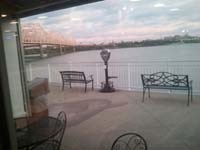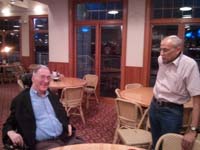 9/6/11 -- We arrived at Kelley 's about noon and Jeff was there as well as Kelley. Hayley, 17, arrived from school shortly after and Kelley fixed lunch. Soon, Amedee came home from school and Hayley got in her Mercedes and drove back to school. I tried to straighten out their iMac while Beh and Tommie toured the pool and grounds. Beh was especially impressed with the fence that Jeff made with apple trees by directing the growth of their branches.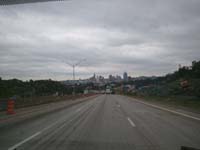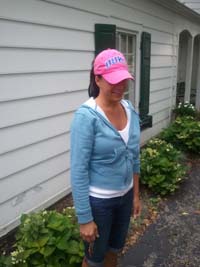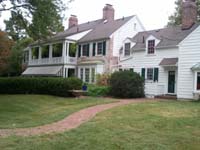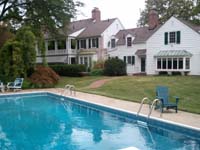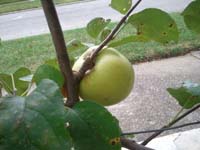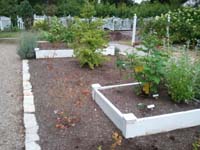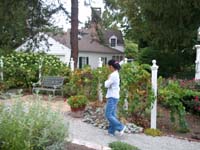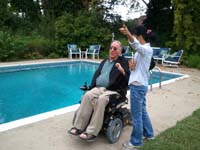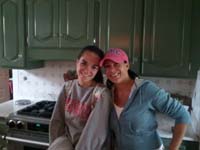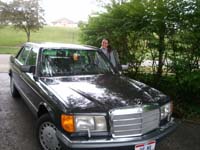 We headed for Xenia and arrived in town about 5 PM. We couldn't raise either Bill or Debbie on the phone, so decided to stop at an auto parts store. Driving over the store my "low brake fluid" indicator came on. I replace the windshield wiper blades and a store clerk added fluid to my master brake cylinder.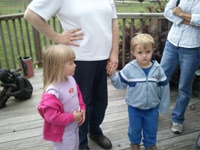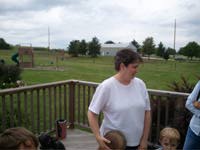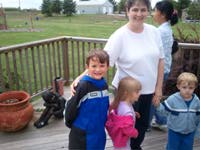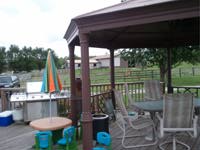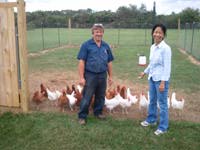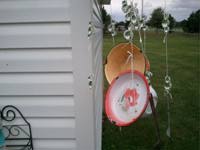 We finally got Bill on the phone and he directed us to their five-acre country estate. Chris's wife and children were there, but I didn't get to talk to them. Bill had made a long ramp to get me up on their high rear deck and into the house. Debbie made us a wonderful casserole dinner and we talked until it was time to get to the hotel, late. Just before we left, Bill took look under the left front wheel and said it was leaking brake fluid. The hotel had no roll in shower, so they gave Tommie an extra room and I showered on the toilet and shampooed in the sink.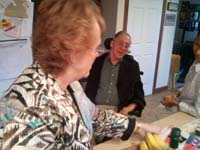 9/7/11 -- We arrived at Roger and Sue's a little after noon. It was cold and windy and we spent some time trying to figure out how to get in the house. And then we took a look at the cars and Roger showed us how Sue's Volkswagen EOS's cool convertible hardtop operated. We had lunch in the garage, and later, drove over to the Elkhart Arboretum for a cool and windy, but wonderful walk through the fauna and flora.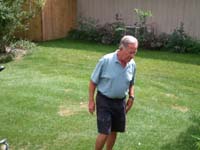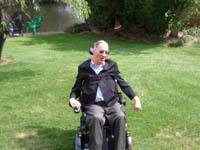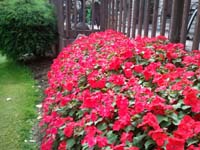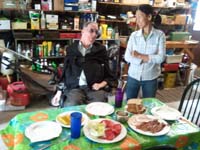 Our hotel, a Staybridge Inn, offered free dinner with drinks and breakfast, and a split room (suite) with spacious roll in shower for $95 -- the least expensive of the trip. I think they were catering to the Notre Dame football crowd just before football season. We had free drinks and dinner at Roger and Sue's anyway.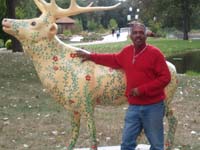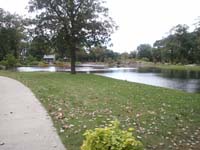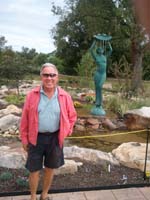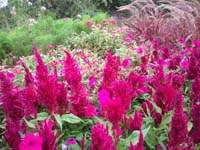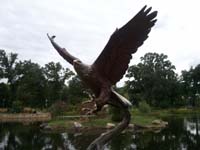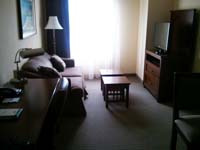 9/8/11 -- When I started the car, I got the "brake fluid low" indicator again,se so decided to go to the Ford dealer in Elkhart. Ziegler Ford had angle parking in their service area. After requesting brake service, I got back in the van to drive it to the shop for service. When I backed up, the van lurched backward. When I tried to stop the brakes failed and I ran into a concrete wall at an angle about 10 mph! Fortunately, there was a tire advertising design on the wall and I hit one tire directly in the center! They popped my plastic bumper out in the rest of the damage was minor -- mostly scuff marks and a cracked back up lens.

Within an hour they found that the front stabilizer bar on the driver's side and worn through the brake line. I contacted Vantage Mobility and they informed me that there had been a recall for the problem in 2008, two years after I bought the van from them. Ziegler Ford continued to do the repair and finally called me in to check the brakes because after bleeding the brakes, the computer still told them that they needed servicing.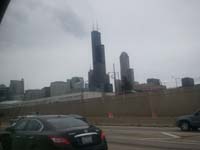 We left at 3 PM and arrived at downtown Chicago at 4:45 PM just in time to be caught in rush-hour traffic. We did manage to get to the hotel about 8:30 PM and over to Tim's for a little while meeting Stacy, two of her sons, and looking over her Mercedes 580 SL and Tim's TR-6 before retiring very tired.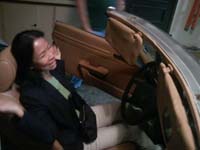 9/9/11 -- Because we had missed them the day before, we invite Roger and Pat Smith to join us for breakfast at the hotel. And then we went over to Tim's again where Tom joined us until about 11 AM. We then drove to the Pioneer restaurant on US 51 and had lunch with Jackie and Duffy Replogle. We got into Marshfield rather late and our hotel had not given me a roll in shower, so we had to switch rooms. Mom had been waiting since about noon when we got there at 5:30 PM. We took her to the World Buffet In the Mall for Chinese food before returning to the hotel.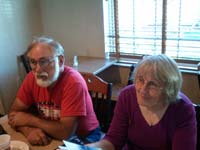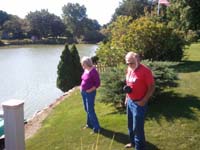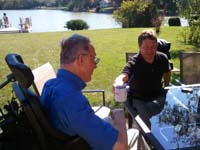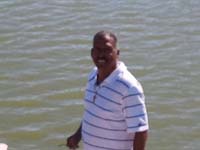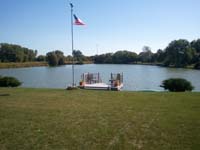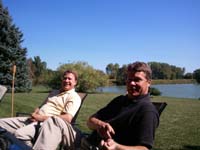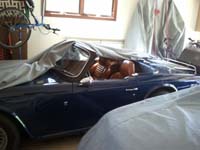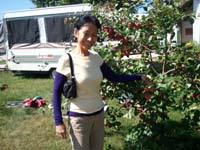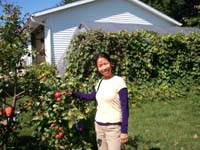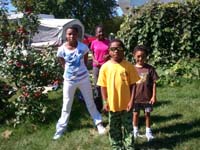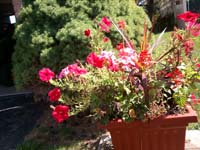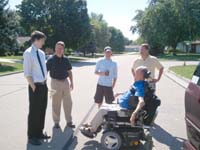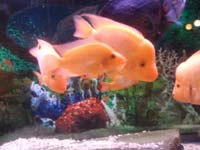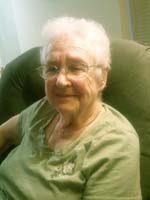 9/10/11 -- Roger and Sue treated Mom and us to breakfast. By the time we got back to Mom's place, we were joined by Paul and Judy. Soon after that, Tom and Angie arrived with Mom's great-granddaughter Alba. Soon after that Matt and Becky arrived with great grandkids Kora and Monty. It was a house full and Mom had some trouble communicating because of her hearing and trouble speaking because of her mini stroke. Still it was a great day for her to have me there with all of my brothers and sisters except Tim after so many years.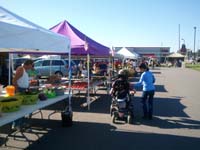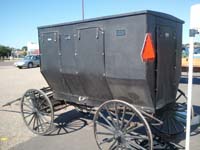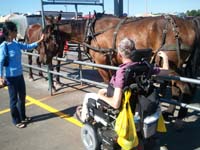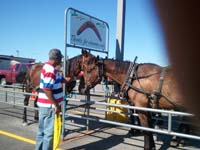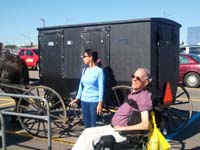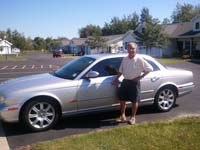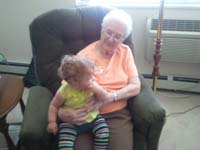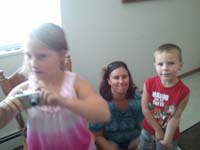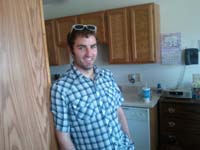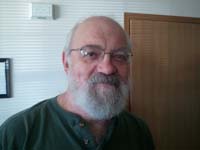 We arrived at the 50th reunion site for the 1961 class of Marshfield high school at the Eagles Lodge early. It was a good thing because there were two weddings going on and the place got very crowded just after we signed in. It was great meeting my classmates after being away so long. My last reunion was my 20th in 1981. I renewed friendships and shared some of my books.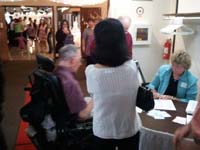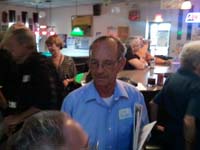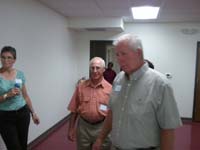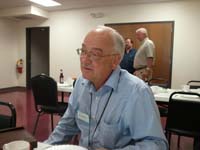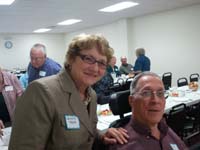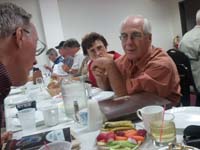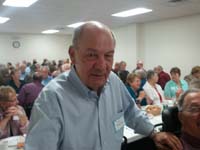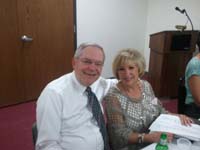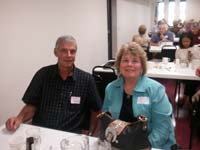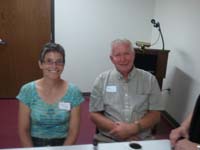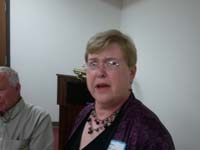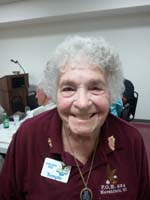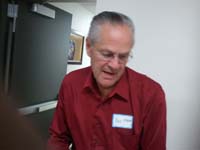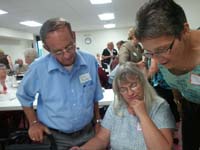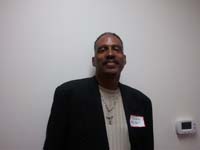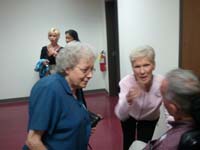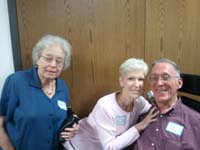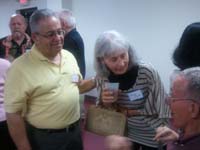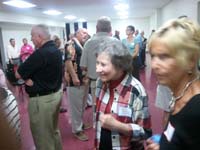 9/11/11 -- We picked up Mom early and drove to Thorp where uncle Don Marshall has an assisted living apartment. We caught him at lunch, but he greeted us with, "Ron, what in the heck are you doing here!" In spite of very poor vision, he can still read and with the help of a special hearing aid has overcome his frequency problem with hearing. At 99 and nine months, he still lights up when he talks about things he enjoys and still cooks and takes care of himself with a little help from the apartment staff. When we went to leave, he jumped up from his chair and join his at the van, marveling at how I can drive with my high tech controls.


We arrived at Ed (92) and Marian (86) Hull's and we're pleased to see that Jeff was there helping them out. Both of them seem to be in good health and spirit, Ed drives everywhere in his new crossover and Marian still prefers her Lincoln Town Car. Ed e-mails me almost daily. His favorite subjects are forwarding me views of the military and of his love, airplanes.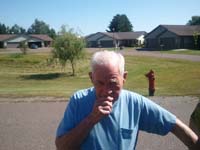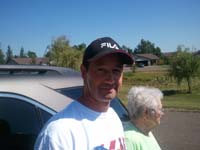 When we arrived at Keith's Marshall RC Park, we were surprised to find that Wes was there. Wesley is still working for Liberty Homes and works for Keith as a maintenance man on weekends. The crowd was racing cars on a very rough motocross course. Wes explained that he had just measured the short takeoff run on an ultralight plane that had landed earlier and already left. Keith, 70, had just bought a light plane and told us that he was learning how to fly. If he lives as long as his dad, he will be able to fly another 30 years. We bought a hot dog from Sandi and headed on up to the house.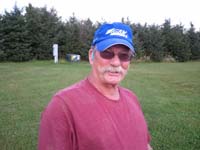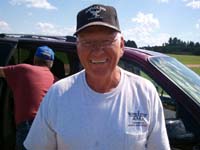 Mom and I waited by the car while Beh and Tommie toured the assisted living facility where Sandi cares for five people. And then they toured the little cabin, filled with antiques, that Keith and Sandi use for a retreat. After that, Beh and Tommie enjoyed the chickens and goats that Sandi raises.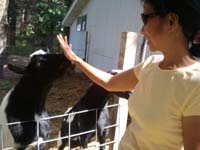 After that we went to the family cemetery by the Black River and check on Dad's grave. On the way back home, we stopped to talk to Aggie Boxrucker, Mom's longtime friend.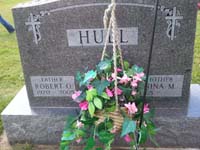 We dropped Mom off and, after stopping at the hotel, Beh treated us to a dinner in a fine restaurant. The Sunrise Family Resturant was the only restaurant on the south side of Marshfield, so we stopped. They had a Sunday buffet, apparently geared to seniors with low prices. The food matched. Tommie had to return his roast pork dinner. The gravy alone was enough to make you gag. I struggled through my chopped steak and couldn't figure out why they used old surplus canned corn when there was so much fresh corn around in season. We had to admit that the salad bar was good.

We arrived at Judy and Paul's in the evening to the loud barking of Cooper and Liberty, their Great Danes. Beh and Tommie surveyed the grounds and the pond, while I navigated up to the deck. We were soon joined by Andy and his fiancée, Tanya and Judy's little granddaughter, Brooklyn. We chatted a while Tanya had trained Cooper in the yard.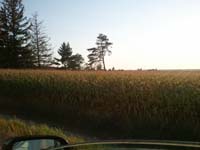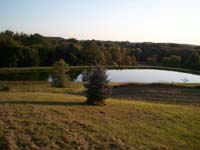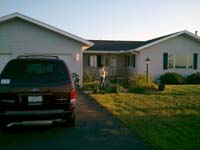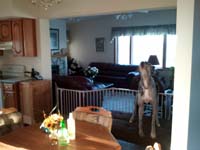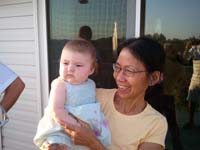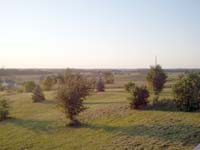 9/12/11 -- After breakfast we stopped off to see Mom one last time. She hated to see us go, knowing that it may be the last time she will see me. We stopped to see Lilian and Shorty and talked from the car. By that time it was quite late. When we stopped in Neillsville to get gas, a guy came up to the car and talked to me like an old friend. Unfortunately, although I asked his name, it was unfamiliar and I forgot it.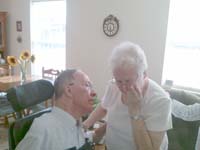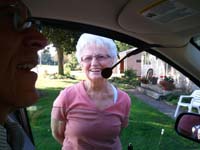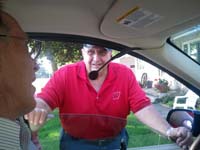 > We arrived at Aunt Eleanor's quite late. She and my cousin, Janice Becker had been waiting for at least three hours and had cheese and sausage for us to eat. Unfortunately, we had too little time there because of our late start in the morning.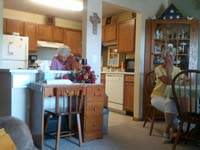 Continuing to be late, we arrived in Menominee about 12:30 PM. Lunch was waiting, so we joined everyone at the lunch table, a beautiful, turn-of-the-century inlaid masterpiece that I felt like a rich man sitting at the head of. I had been invited by Sue Pittman, executive director of the Stout Foundation to the luncheon. Jeanette Rudiger, foundation director, joined along with my friends and former colleagues, Drs. Lee Smalley, Zenon Smolarek, and Harold Halfin. We discussed old times and had the presentation of the Discovery Center by its director, Robert Daulke.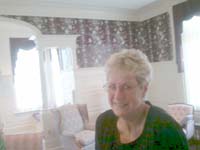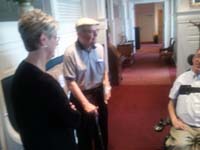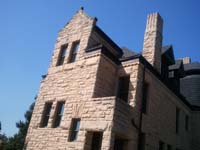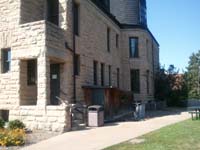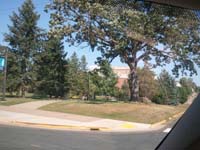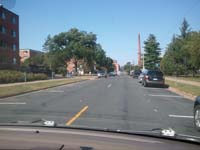 Back on the road we stopped at a Country Inn for the night in Owatonna Minnesota. Tommie was complaining about breathing problems but relaxed after taking a dip in the warm spa. At the same time, Beh enjoyed a swim in the pool.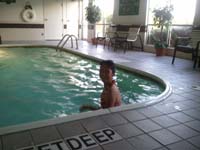 9/13/11 -- After a long day of driving, we pressed on to make Fort Smith. We looked for tornado damage as we passed Joplin Missouri, but didn't see any. Finally, we stopped short about 60 miles at Bentonville. We were very fortunate to find a private hotel called the Simmions Suites. Our room was spacious for wheelchair access and the whole place was beautifully done. Across the road was a restaurant called The Grille where Beh treated us to an expensive, but elegant dinner. Tommie and I ordered bison tenderloin that was some of the best steak I have ever eaten. It was like filet mignon with a much richer taste. The loaf of bread reminded me of Mom's bread.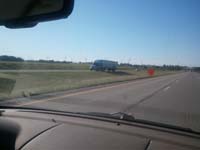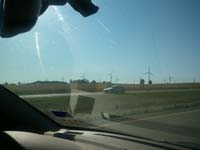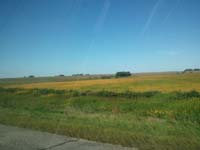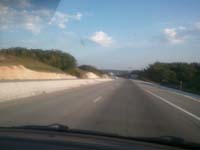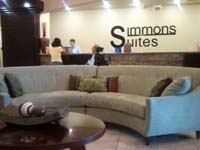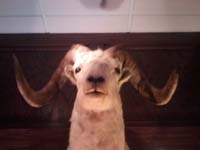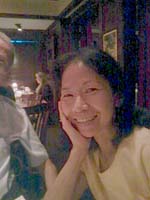 9/14/11 -- The long drive home was uneventful except for a 3 or 4 mile stretch of US 59 south of Atlanta Texas that had been burned on the right side. Fortunately, the fire had not crossed 59. I drove past that spot in Marshall too fast to see what had burned, but that fire must have either burned out when it reached the road or been put out, because I didn't see anything.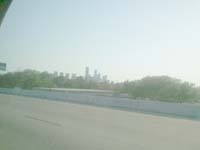 After fighting a small headwind coming into Houston that was tiring, we arrived too late for Tommie to catch the bus to Galveston. We dropped him off at a place he could stay near the station that night. Later, he got a ride back to Galveston and entered the hospital the next day. He had pneumonia, spent a week in the hospital, but is home now, recovering.