Winter Sun


After the Solstice waning sun comes back again,
but it takes a long time for that day when,
the forest and fields are alive with life,
we face several moons of cold, dark strife.
Sacrifices have been placed on the sun's altar,
to make it turn around and come back, not falter.
we have been forced to hive like the bees.
Will we make it until leaves return to the trees?
Winter is long and winter is bitter and harsh.
The fish and the birds are gone from the marsh.
The deer runs from us in the barren forest.
Every animal hides, making this season poorest.
We have prayed to our sun to please come back,
with our best incantations for we know that we lack,
the preparation and will to make it to spring,
when the sun will again warm us and everything.
So now we must bundle up and watch for a sign,
that the gods of the forest will be generous and kind.
That we will suffer no death and hunger until that day,
when you come again and warm evil and death away.
We have given you the best of our harvest and our young.
Will you give us another season of growing and sun?
Will the moon and the stars align in your sight?
Will you give us the life we need to remain in the light?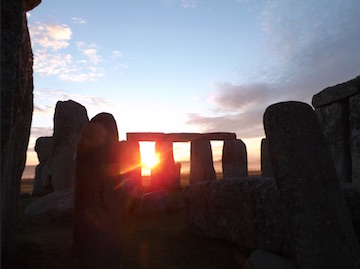 Stonehenge at Sunset On Winter Solstice © StonehengeTours.com
Trying to imagine what it must've been like for
people like the Druids and other people in northern
climes who faced long hard winters with starvation,
disease and death.

eMail Me

More Poems

My Place

Copyright 2016 © Ronald W. Hull

12/23/16




It's in the Water and Other Stories