Windmills

I've been jousting windmills,
trying to be or not to be.

Out on the barren landscape,
as far as eye can see.

Life throws up its endless barriers,
just when you think you're free.

Just sneaky little reminders,
tossed from calm to stormy sea.

The more we try to simplify,
and rely on technology.

The more we are tied up,
in newfound complexity.

Just when you think you can't go on,
too tired to be a busy bee.

Think of nature's intricate path,
go out and hug a tree.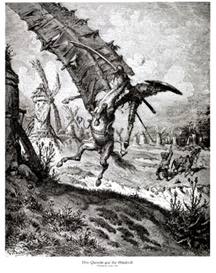 Mail
More Poems
My Place
Read War's End, the Novel
Copyright 2006 © Ronald W. Hull


12/2/06

Mail

More Poems

My Place

Read War's End, the Novel