The Wind -- Again

The breeze moves gently,
o'er my windowsill.
Bringing warmth of sunshine,
and flowers' scent from the hill .

A gust of exuberance,
foils my flame.
twigs astrew,
must try again.

The flag is shredded,
snapping nigh.
Still raises our hearts,
to see it fly.

The leaves fly about,
as if they are dizzy.
We romp in them,
like in a Tin Lizzy.

We glide through the water,
as if in a dream.
The power of wind,
surging us upstream.

The rotors turn,
with a swooshing sound.
Effortlessly pumping water
from the ground.

The windows rattle,
as the storm howls outside.
We cuddle under the covers,
its claws to hide.

In the silence of calm,
the wind has died.
We contemplate our souls,
and abide.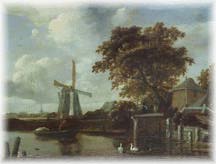 Windmill at the Riverside

Meindert Hobbema

Mail
More Poems

My Place

Read War's End, the Novel

Copyright 2009 © Ronald W. Hull

1/11/09