Wild Birds

Wild birds cross the evening sky,
Winging home for the night.
The old ones say that they are stillborn babes,
Seeking out the last light.

The sky is a painting of many hues.
A constantly changing wondrous sight.
The old ones say the sky mirrors life.
Wild birds punctuate with their flight.

I've seen them scavenge the last berry,
From a winter torn bush's snowy blight.
The old ones say it's the last feast of winter,
For those who won't see the spring rite.

Wild birds peck a carcass clean.
Their anger loud and bleak.
The old ones say that it is revenge,
For a wrongful death they seek.

So when I die don't bury me,
In the ground so deep,
Tie me in a tall tree,
My bones to pick for the meek.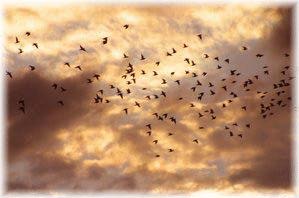 Photo by Gloria Leigh Logan

Copyright 2004 © Ronald W. Hull

5/23/04

The Zorastorians and Some Native Americans
have placed their dead to be eaten by scavenging birds

Mail

More Poems

My Place

Read War's End, the Novel