What Will I Bee?


What will I bee?
A little bit of wee?
An insignificant tee,
or a knat you can't see?
Buzzing around the biz,
trying to take a whiz,
exclaiming geewhiz,
my stats are so diz.
Trying to suck a flower,
at this late great hour,
to make my bed or bower,
no longer in my power.
Struck by the great disease,
try to put my ducks at ease.
Sucker's so hard to please,
as I drink the blood of bees.
So if you want to be a fairy,
and flutter around poems airy,
of this bee, be very wary,
for the stinger I carry.
For it may, "float like a butterfly,
and sting like a bee." But,
my sting is softer just for thee.
Rhymes without reason of late,
you may think they're trash, or great.
But the bee made me open the gate,
open or closed, still makes rate.
So we leave this poem with a query,
are you lonely and so damned weary?
If so, don't be so damned leery,
when I call and you are so beery.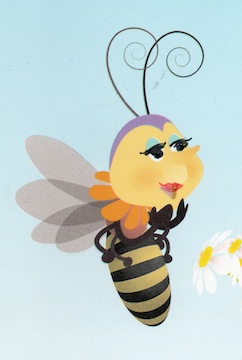 Girl Bee [Larger] by an Unknown Artist

Just a bit of nonsense. Any resemblance to any
any thing, person, or idea is solely by circumstance
and I will not answer any lawsuits filed. ;-)

eMail Me

More Poems

My Place

Copyright 2017 © Ronald W. Hull

9/15/17




It's in the Water and Other Stories