We're Free!

It's been 130 years,
since we left our tomb,
locked up in glass cages,
in the mummy room.

They finally broke the glass,
and we are free.
Or at least when those guards leave,
we are going to be.

We'll sneak out at night,
when the party is over.
The sun will be too much,
for our brittle cover.

We long for the touch,
of warm young flesh fair.
And thirst for wine,
to run blood red rare.

Mubarak's palaces,
belong to us.
We think he'll give them up,
without any fuss.

When we arrive in his bedroom,
late one night.
No court in Egypt,
will give him such fright.

With young maidens dear,
at our command,
we'll birth new mummies,
throughout the land.

Muslims, Christians and Jews,
should not fear.
We'll conquer the world,
in about a year.

Won't it be funny,
near the end of 2012,
as Nostradamus predicted,
we mummies have evolved.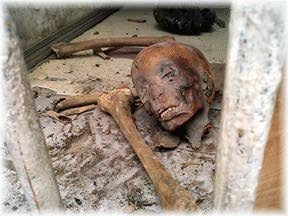 Damaged Mummy

Cairo Museum

Mail

More Poems

My Place

Read War's End, the Novel

Copyright 2011 © Ronald W. Hull

2/12/11

This satire should be no slight to
the brave people of Egypt who finally
threw off brutal authority for freedom.
Let us hope that the power of the
Internet will free all the other oppressed
people in the world, including those
in Iran, North Korea, and Miramar.
The global village is truly at hand.