Weep What You Sew

Life is a coat of tattered fragments,
that mother pieced with care.

Growing up was never easy,
with danger everywhere.

Although you learned your lessons,
your father wasn't there.

So they were lost upon you,
along with the burdens you bear.

You sewed together a patchwork,
of friends with which to share.

But the world came down upon you,
in a place you called nowhere.

And the weeping it was mighty,
and you cried, "Revenge, I swear!"

Got down on your knees a praying,
caught up in the snare.

That you were lost for trying,
your coat had laid you bare.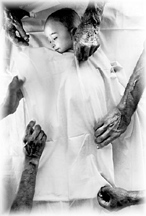 Mail
More Poems
My Place
Read War's End, the Novel
Copyright 2006 © Ronald W. Hull


8/6/06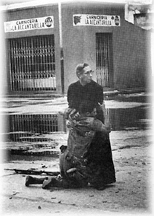 A Young Soldier, Shot by a Sniper
in Spain, Clings to a Priest
Before He Dies