Wayward Swan


A wayward swan flew off course,
and happened to rest in my view.
She drifted there among the lilies,
white against green, water blue.
She was so beautiful in the morning sun,
elegantly breaking the mirror of the lake.
With purpose and direction gliding along,
rolling ripples of surface in her wake.
I thought of my love so far away,
taking her swim to greet the new day.
Why did I leave her to swim all alone?
Why did I leave the comfort of home?
I thought about how lonely this swan must be,
with no mate to nest with that I could see.
Still, she was regal in her own private realm,
like a princess awaiting her prince to come home.
Two days went by as I thought of my love,
each morning the swan reminded me of,
what I missed of her watching from above.
I secretly wished she was here to see.
That symbol of peace and calm resolve,
waiting so patiently as though with a plan.
Waiting so patiently day after day,
knowing somehow she'd be joined by her man.
On the third day, to my pleasant surprise,
another white swan flew in before my eyes.
I knew then that she was wayward no more,
both had promised to meet on this far shore.
That evening at the airport I awaited your return,
my joy overflowed seeing you dressed in white.
We re-consummated our love all through the night,
and greeted the swans' arrival at first light.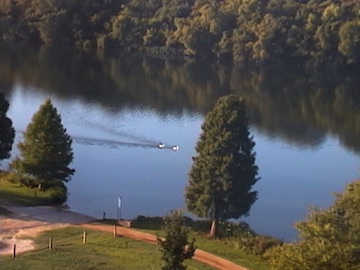 A low-resolution video of the swans, turtles, wedding pictures and
Mexican freetail bats leaving the Congress Street bridge
for their nightly feeding.


Few sights compare with the view of a pair of swans...
A Pair of Swans -- Town Lake, Austin, Texas 2004



eMail Me

More Poems

My Place

Copyright 2017 © Ronald W. Hull

5/18/17




It's in the Water and Other Stories