Waxing Taxing

Nothing's surer than death or taxes,
so I'm here to tell you what the facts is.

They passed the Paperwork Reduction Act
to save us from that monkey on our back.

So each year they add more forms.
"Please fill out carefully," each one warns.

They kindly tell us how much time it will take,
so that we can do it during a coffee break.

"Make sure you have all your information at hand."
A pile of old bills wrapped in a rubber band.

So after you've struggled for hours and give up,
the irs.gov has a program to cheer you up.

Says, do your taxes online for free.
So I click on the button, wait and see.

Several companies say they'll do it for me.
When I click on them, they all ask for a fee.

I say, okay, they're saving me time.
I pay my money and ease my mind.

The system hangs up--wrong browser—nice.
Two computers, three browsers later—still no dice.

I'm back to paper and the computer's on ice.
To top it off, I won't even get my slice.

Guess I'll wait until the last minute to pay.
And go back to writing poetry my way.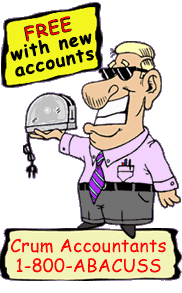 Images Courtesy GrinningPlanet.com


Mail

More Poems

My Place

Read War's End, the Novel


Copyright 2006 © Ronald W. Hull

1/29/06