Wangle Dangling

Fred Trilingual wangle dangle,
Fishing for a pond.

Mona Minya stepped on a pina,
Coladaing for a cocoanut frond.

Janet Jackson caught the action,
Waving her magic wand.

Action Jackson in deep traction,
Mass destruction weapons pond.

Hairy Rising quite surprising,
Looking for his toad.

Bush Bashing donkey hashing,
He hit the road.

Bunker Buster thrust his trustor,
His seed was sowed.

Raster Rocket hit the pocket,
Lost his full load.

Temperance Tony prays a mighty,
It is he, I goad.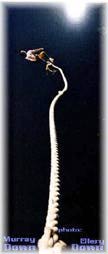 Mathesen Lake, B.C.

Copyright 2004 © Ronald W. Hull

4/18/04

Mail

More Poems

My Place

Read War's End, the Novel