Vanishing Point

Off in the distance, just out of sight.
Lies my destination, in the dim light.

There's fire in my loins with will in my might,
That I might get there, before the dark night.

So I press on the accelerator and hold on tight,
And lose the encumbrances that hold me back.

To outrun my rivals, on the left and the right.
I sense that they're gaining, on the attack.

But I don't see them, it's just that they lack,
The skill and the power with which I fly.

Into the vanishing point in the night sky.
But will I get there, …before I die?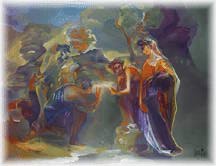 Nicolas Poussins' pastoral landscape
"Et In Arcadia Ego", 1640.

Copyright 2004 © Ronald W. Hull

2/28/04

Mail

More Poems

My Place

Read War's End, the Novel