Trapped

In a spider web,
All white and neat.
Decaying ever so slightly,
Ready to eat.

In a strait jacket,
Of my own design.
It keeps out intruders,
While I piss and whine.

In a relationship,
Convoluted and deep.
It's crushing me to death,
But I still want to keep.

In a great debt,
I can never repay.
Thinking that material things,
Are life's only way.

In this body,
I've neglected too long.
Saying, "Soon I will do it,"
Until misery came along.

In a life of misery,
That doesn't fit my skin,
An endless night of days,
Until I cash in.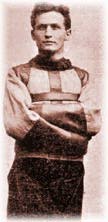 Houdini escaped his strait jacket into immortality.

Copyright 2004 © Ronald W. Hull

5/30/04

Mail

More Poems

My Place

Read War's End, the Novel