Toil Not

Our world was built,
on the labor of hands.
To mark our place,
in the shifting sands.

Labor was needed,
to rise from the muck.
To harvest ahead,
with a little luck.

Labor was honored,
in its own right.
Manhood was expected,
in the survival rite.

A cruel man could get,
someone else to toil.
Slavery brought riches,
the freedom to spoil.

A rich man could think of,
many things to be done.
His workers would labor,
until the day he had won.

A smart man knows that,
to labor, itself, is good.
He labors himself,
whenever he should.

Labor saving devices,
everywhere abound.
Nothing more cathartic,
than getting down.

On hands and knees,
to dig a deep hole,
until your fingers bleed,
and your heart is whole.




Poster Preserved by Lincoln Cushing

Mail

More Poems

My Place

Read War's End, the Novel


Copyright 2006 © Ronald W. Hull


9/3/06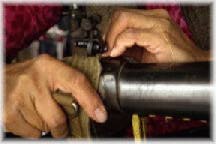 Photo by Marek Podkowa