The Net

The Net is a web of mythical proportion,
hiding its mythical spider.

The one that that is on the outer edge,
where you went so far to find her.

The one you meet in clandestine rooms,
rather than sit down beside her.

On the front porch swing,
stealing a feel, knowing it's real.

Before that all important kiss,
to seal the deal and steal her heart.

No, this is more like hit and miss,
like sending out an Amber alert.

For she is not what she seems,
pictured beyond your wildest dreams.

She's probably a guy, the FBI,
teasing your heart to the seams.

Or a perv with a lot of nerve,
fishing for a filthy little fly.

Or a fag to make you gag,
when you find out he's a guy.

But she's probably just a floozy,
online whenever she gets boozy.

Trying to impress you with her art.
Trying to give her life a jumpstart.

So never try to meet her, cuz,
she's not interested in an old fart.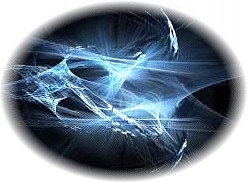 Fractal Art by Sven Geier

Email Me

More Poems

Ron's Place

Copyright 2007 © Ronald W. Hull

11/18/07