Techno Rubble

Beneath the pile of rubble,
where mighty men once stood.
We searched for answers,
but found none very good.

A tribute to their perfection,
climbing to the pinnacle they could.
And not stop at reaching it,
or go where not they should.

First, they conquered all the beasts,
both large and small.
They understood not what they'd done,
they couldn't conquer all.

And then they conquered one another,
while heeding some higher-order.
To justify their continual murder,
in the name of where they'd come.

They took these places as their own,
and called them now civilized.
They took these places from their nature,
creating beauty in their perfect eyes.

But time and nature takes its course,
and civilization always dies.
If not from a natural catastrophe,
then from man's avarice, greed and lies.

An artificial world hastily rose,
as human population multiplied.
It covered every corner of the land,
and could not be denied.

An artificial system was wired,
to fill the insatiable need.
The artificial system was required,
to fill man's insatiable greed.

All nature's creatures large and small,
lived in a world created by default.
Man planned everything so well,
that nothing was left out.

It took a while,
but finally broke through.
Men no longer lived on the Earth,
they lived in a self-made zoo.

The natural selection,
that made him so smart and so strong,
had been engineered away,
so the weak could live on.

It wasn't his artificial intelligence,
that finally did him in.
It was his lack of intelligence,
to quell the technobabble din.

Of his world crashing down,
from his own benign neglect.
And the hopes of his children,
lost in the escalating wreck.

Like so many species long before,
his overpopulation rotted his core,
with anarchy rampant and no hope in sight,
mankind succumbed to a long dark night.

We can only riddle at the rubble they left,
we gather and hunt in the folds of its cleft.
They must have been great to build so high,
while we warm by the fire to an open sky.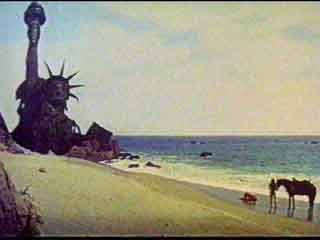 Mail
More Poems
My Place


Read War's End, the Novel


Copyright 2008 © Ronald W. Hull

3/1/2008