State Fair

Calliope music fills the air,
people stroll going nowhere.
The heat of the day lingers above,
Cotton candy beckons like love.

A giant monster can be seen,
a horror beyond your wildest dream.
Just step up and pay a small price,
the plot thickens like rice.

A little child's eyes saucer wide,
wants to take a harrowing ride.
Screams pierce the newfound night,
as the pace quickens in neon light.

The gamester's skills finally honed,
a teddy bear's begging to be owned.
A drunk will spend all his cash,
to get his girl slim pickins to stash.

The parade winds through crowds' delight.
Stilted people walk with faces of fright,
Clydesdales paw and prance,
eager to join the dickens of dance.

Through it all, Big Tex stands tall,
spouting a friendly, "Howdy" to all.
One last celebration with kind and kin.
before the pace quickens in the cold wind.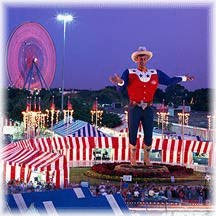 Image Courtesy Carolyn Brown

Mail
More Poems
My Place


Read War's End, the Novel


Copyright 2005 © Ronald W. Hull


10/8/05