Starting Over

When I found you, you were the best.
You stood tall, above the rest.

For a while, you were mine.
Exceedingly fast, you passed the test,
of what I had in mind.

But age and viruses came along,
and had me singing a different song,
Corruption was just around the corner.

Still I believed, with you on my sleeve,
I persevered, carrying on and on,
while you sang a swan's song.

I sought counsel of the highest kind,
and it went on for several weeks.
All tried and failed, after many tweaks.

Finally, disgusted, I started over,
Carefully saving our precious moments,
Just like all the geeks.

With a single click I cut you loose,
Never to return—hit restore.
But you proved harder to get back,
a lesson I can't ignore.

I thought I wooed you right,
but discovered I was wrong.
I spent too many hours in restore,
Could have just copied all along.

Now that we are back together,
Things still aren't just fine.
Old problems lurk in the wings,
Will you ever really be mine?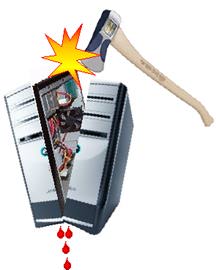 More Poems

My Place

Read War's End, the Novel

Copyright 2008 © Ronald W. Hull
7/20/08