Starlight

Starlight, starbright, don't shine for me tonight,
but provide for me, the morning light,
the warmth of day, and sky of blue,
you are my star, my star so true.

With you the seasons come and go,
you're always there, come rain or snow.
Sometimes I don't see you for days,
that's when I miss you in so many ways.

You're taken for granted, I am told,
but you were worshiped in days of old.
We have forgotten how important you are,
our one and only, very personal star.

We can imitate your light very well at night,
but we need your power to make it bright.
With your power we've turned night into day,
without you, there would be no other way.

It's cold out there, and so alone,
but you are near, and you have shown,
your starlight for over 4 billion years,
to this fragile planet filled with tears.

For death is normal to create new life,
filled with drama, and filled with strife.
But you are, and have always been,
the driving force that comes from within.

You are not the center of this huge universe,
you play a small part in this dance you rehearse.
But you are our only source of life,
Occam's razor cuts from your knife.

So thank you starlight, or your blinding brilliant light,
we'll luxuriate in your warmth and wait for you each night.
For we love you and everything you do to make things right,
our one and only star, our starlight.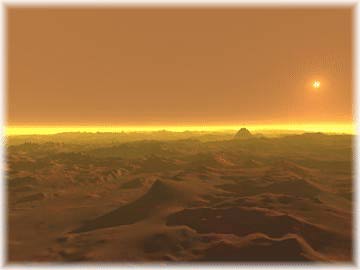 Rendering of Sun Setting
on Mars © Paul Bourke
We rarely think of our star,
just one of billions in a clear
night sky, for what it really is.
eMail Me

More Poems

My Place

Copyright 2014 © Ronald W. Hull

9/11/14




It's in the Water and Other Stories