Spring Storm

She moved in from the northwest,
hotter than the norm.
Her lightning eyes flashing,
they called her, Spring Storm.

Her mighty teton majesty
came rolling grayly thin,
the thunder of her highest points,
nearly did me in.

I've seen this kind of storm before,
but never soulful and so intense.
I've tasted her electric bitterness,
but never so quaveringly immense.

Her kiss was unexpected,
a strong and mighty whiplash.
Blew my windowpanes away,
so I could see the slash.

She made in my oblivion,
that sprang far before the fall.
Hard as a rock of obsidian,
I faced her throbbing all.

She tore my threads to threadbare,
she sucked my soul to fire.
I could not stop my stroking,
for fear of her awful ire.

Her rain came with its mercy,
a deluge of dirty delight.
To wash away the sin of shame,
and remembrance of many lonely night.

Her whirlwind became a sweet breeze,
her fiery flashes soft rainbow gone.
I wondered if it was just a dream,
as I savored the sweet green grass,

and breathed the coming dawn.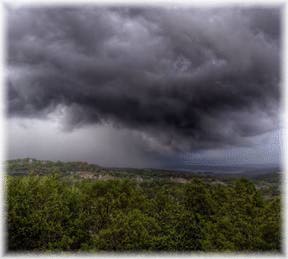 Texas Storm Courtesy Wordpress.com

A spring storm came passing through…

Mail
More Poems

My Place

Read War's End, the Novel

Copyright 2010 © Ronald W. Hull

3/20/10