Somewhere There
are Christmases

Somewhere there are Christmases,
where the light of love shines bright.
Somewhere there are Christmases,
where the land is bleak with blight.

Where snow falls this time of year,
and sets to cheeks its rosy cheer.
Or turns to cold rain and mud,
making mere existence drear.

Where colored lights fill the nights,
and bring all hearts to joy.
Or where the electricity is cut off,
and children work but have no toy.

Somewhere there are lavish gifts,
bestowed upon the dear.
While unemployment checks,
run out the first of the year.

Somewhere the sounds of family,
reverberate through the house.
or the foreclosure last month,
left it quiet as a mouse.

Somewhere they are singing,
Christmas carols with glee.
But there are children crying,
from sea to shining sea.

We give generously at Christmas,
to those poor of wealth.
And ignore their plight the rest of days,
as though generous no more.


For some there are no Christmases,
in far-off away foreign lands.
Yet they work very hard to please us,
with gifts they make with hands.

Somewhere there are Christmases,
if only in our dreams.
Christmas is not for everyone,
or at least, so it seems.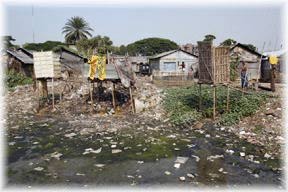 Latrines in Bangladesh

Mail
More Poems

My Place

Read War's End, the Novel

Copyright 2009 © Ronald W. Hull

12/13/09