Solar Crazy

The stars came out
and marched along the Milky Way.
The faithful knelt aghast,
and began to pray.

Mercury was burning,
Eddie wished to be that hot.
So Queen became champions,
of a world that was not.

Venus grew before our eyes,
and revealed her inner beauty.
Her orbs were pubescent,
her glow, her ardent duty.

Mars ran low across sky,
his manhood omnipresent.
So red his Doppler shifted,
he cackled like a pheasant.

Jupiter threw off Io,
parading his big red spot.
We would have had Io for dinner,
but she was way too hot.

Saturn turned on her rings,
encircled by her beauty.
Fairly glowed with Stardust,
a beautiful round booty.

Neptune sailed out to see,
what the commotion was about.
Broke the ice with a single slice,
and passed the vodka out.

Uranus turned his better side,
and began to throw up.
His big ascend was obvious,
it was so corrupt.






When Pluto became impotent,
he turned his tail and hid.
We never saw that sphere again,
his ego was all id.

And so the stars paraded,
and we lost all doubt.
The Man on the Moon was crazy,
until the faithful prayed out.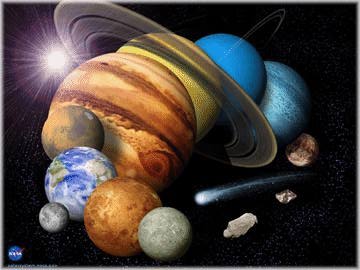 Mail

More Poems

My Place

Read War's End, the Novel

Copyright 2010 © Ronald W. Hull

7/31/10