Soilent Sea

The old man went out one day,
to fish the Soilent Sea.
Its iridescent beauty,
belied the truth that be.

He passed the tar babies,
playing on the beach.
Lots of tar balls to play with,
within easy reach.

One hundred days or more,
the old man had fished in vain.
Greased against the baking sun,
or drenched in slippery rain.

His pension had been cut in half,
the big oil crash brought it down.
Further cuts were on the way,
there was no end to frown.

His village was starving,
he had to catch some fish.
Black Gold had meant him nothing,
to survive was his only wish.

The albatross around his neck,
the old man wore with pride.
It fell into his boat one day,
as he cleaned it gently, it died.

A turtle floats up occasionally,
its meat tastes like hell.
He takes the turtle up anyway,
can always use the shell.

There are no fish, no shrimp, no eel,
the Gulf is nearly barren.
It's terrible to see the dolphin die.
Even the vultures die from carrion.

And so he set sail one more day,
upon the Soilent Sea.
The old man's days already numbered,
what will be will be.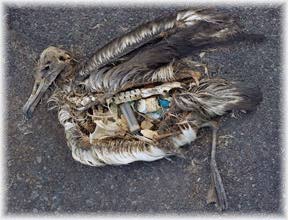 Dead Albatross

Mail

More Poems

My Place

Read War's End, the Novel

Copyright 2010 © Ronald W. Hull

5/23/10


Silent Spring
The Rime of the Ancient Mariner
The Old Man and the Sea
Soyent Green