Slow-Moving Front

Thinking of Otis Redding…

There's a slow-moving front come in,
can you smell the flowers?

Yes, a slow-moving front's come in,
I been sittin' here for hours.

The leaden sky is darkly gray,
pregnant with spring showers.

Jogging my slow-moving frontal lobe,
from dreamy ivory towers.

Trying to compose my thoughts,
while making bridal bowers.

Slow-moving front's dragging by,
reflecting all my sorrows.

Slow moving job hunt passing by,
I been sittin' here in a haze.

Eatin' all my equity,
can't seem to change my ways.

Until that damn front passes by,
and I'll again see brighter days.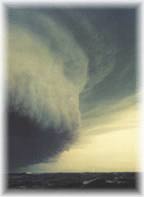 Photo Courtesy Gympie Weather.com

Mail

More Poems

My Place

Read War's End, the Novel


Copyright 2006 © Ronald W. Hull

4/29/06