The Scribe

He chooses his words with care,
his vocabulary is thin and bare.

His sheepskin parchment is rare,
His penmanship he cannot spare.

He mixes his ink with care,
from a formula older than air.

And from the heart, from the very start,
writes with skill and without error.

When day turns to night,
he writes by candlelight.

He writes for days until he is done.
Until he and the manuscript are one.

He writes whenever he chooses,
as often as prompted by the Muses.

He thumbs in a reply,
on his keyboard in the sky,
and sends it to whomever he chooses.

The thought has come and gone,
and so he moves on,
to whatever still amuses.

He thumbs his last pitch,
and ain't it a bitch,
into a wall he crashes.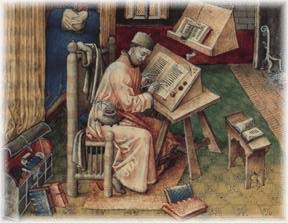 Scribe Courtesy Warwick School, UK

Mail
More Poems

My Place

Read War's End, the Novel

Copyright 2010 © Ronald W. Hull

2/6/10