Rustle and Hustle

Rustle and hustle and do the hip hop,
Yo, the in word and repeat till you drop.

What's up? What's up? To get 'em high.
Answer that question and you will die.

If not from an overdose,
then from a senseless drive-by.

Fast money Honey is what it's about,
can't sing or dance, just scream and shout.

Get 'em all riled up on a hatred high,
Niggah this and Niggah that till the money fly.

Get all dressed up in exotic bling.
Conspicuous consumption is the new thing.

For if you ain't got nothin', down in the hood,
them rides and that bling sure lookin' good.

So what of the blues and rock 'n roll?
Songs of the heart from deep in the soul?

All lost in the din of out shout you noise,
the in crowd get it and are one of the boyz.

Some boyz become men with business savvy,
most become a burden on friends and family.

When will we learn that art is greater than fame,
and stop paying money for those in the game?

Rustle and hustle enjoys a great ride,
but it's wasted money that we can't abide.

Before buying a CD or a concert in hip-hop,
drop a 20 in the hat of a street corner stop.

Where the real music is born.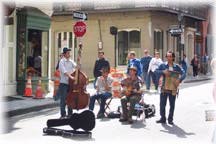 Image Courtesy
Andrew Hocheimer
The Software Artist

Mail

More Poems

My Place

Read War's End, the Novel

Copyright 2007 © Ronald W. Hull

2/24/07