Russian Roulette

Only in Russia can it be,
for each one that dies,
made are two babies.

It seem this math of the seers,
double the people in twenty years.
But this is not so, and so the fears.

The Russian health system is so bad.
Smoking and drinking is killing the dad.
The high cost of living causes this sad.

Women are opting not to have child.
It cost too much in economy so wild.
How would we feed or teach the mild?

Problem requires strong intervention.
Government subsidy--no new invention.
Putin is offering $10,000 pension.

Woman still think his idea is nuts.
Can't afford vodka, caviar and such.
Must afford the kid to teach much.

Putin insists will be good for country.
More man-child to work and die early.

More man-child to be cute and cuddly.
More man-child to kiss on the belly.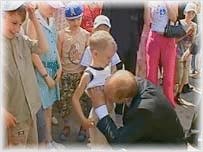 Image Courtesy BBC

Mail

More Poems

My Place


Copyright 2006 © Ronald W. Hull


7/22/06

My title suggests the irony of this satire.

Can you guess what it is?

Hint: Paul Erhlich is drinking again.