Roses are Dead

Roses are dead. Violets are too.
The air takes on, a strange yellow hue.
The river becomes a deep, muddy brown.
The ocean exhibits a slimy green frown.

It is hot, oh, so hot,
with no relief in sight.
Can't sleep in the day.
Can't sleep in the night.

How brown is my land,
once green with life.
The wind blows unceasingly,
with dusty clouds of strife.

The last food ran out,
some time ago.
Good water is scarce,
and dying is painfully slow.

Oh, when will the suffering end?
The answer is clear.
When everyone is dead,
and that time is now near.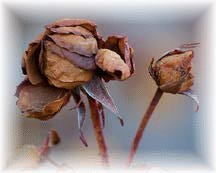 Photo by Rich Legg

Mail

More Poems

My Place

Read War's End, the Novel

Copyright 2008 © Ronald W. Hull

8/16/08