Don't Call Me Ronald

Don't call me, Ronald,
when Ron will do,
my given name's is too formal,
when friendship's in view.

And don't call me Donald,
because that's reserved for the Trump.
He'll never be president,
name can't climb over that hump.

And don't call me Robert,
that was my father's name.
And he wasn't Robert Hall clothiers,
or Bobby Hull hockey fame.

And don't call me Hall,
because two walls are too plain.
a ship's crafted curved ribbed walls,
gave shipbuilders my name.

And don't call me Ronnie,
for a sissy I'm not.
My aunts may call me that,
all others will get shot.

Do call me Dr. Hull,
it's an honor I earned,
through long years of education,
an accomplishment learned.

The school of hard knocks,
I've also been through,
but there's no substitute for formal study,
under great mentors famed too.

You can call me Runny,
when I wax a bit punny.
For everyone's in the money,
when they're being funny.

Humor makes the world go around,
and what's in a name and how does it sound?
A name is important; it's all you've got.
So use my name correctly, or you will be shot.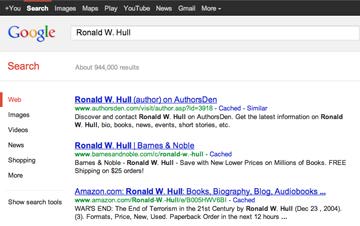 Some authors use pseudonyms or nom de plumes.
Some of those are difficult to deal with, like Prince's
unpronounceable symbol. I, unlike Mark Twain,
have chosen to use my real name as the author
of my books and poetry. However, formally,
I am Dr. Ronald W. Hull and informally,
just Ron. Some people have a hard time
with that and my last name. Even Google
decides that my name must be Ronald W. Hall
because apparently, nobody has a last name,
Hull. By the way, I can't hold a gun,
but I will fire a nasty comment across your bow
if you keep abusing my name. ;-)

Mail Me

More Poems

My Place

Copyright 2013 © Ronald W. Hull

9/19/13



It's in the Water and Other Stories