Radiated

Hapless hours float on by,
Burnt toast melon painted sky.

Silence sits upon the land,
The Reaper's wrath is at hand.

Lovers locked in fatal embrace,
Sown seed cannot erase.

Thursday's special apple pie,
Melting in its case.

Apples falling from the tree,
Dead bug filled rotting waste.

Goodbye, American pie.

Why?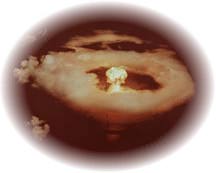 Mail
More Poems
My Place

Copyright 2003 © Ronald W. Hull

9/28/03