Quarry

Deep in the woods lies a snare,
where the edge of life abruptly.

Carved rock a deep scar mark,
cunningly cuts the course bluntly.

A vertical leap, a droppings heap,
silently signals foreboding danger.

The tracking hound never found,
a mystery that was stranger.

Deep below in crystal-clear flow,
the rotting wreckage of a life.

No sound heard, nothing disturbed,
a stillness as sharp as the knife.

While time passes, memory lapses,
and calmness replaces strife.

But deep below, beneath life's flow,
the dread of death still arises.

A myth in the night, terrible fright,
the reality of the dream surprises.


A Duality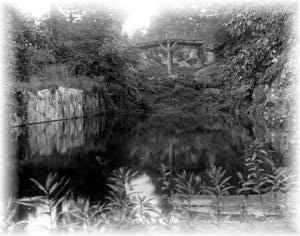 Mail

More Poems

My Place

Read War's End, the Novel

Copyright 2007 © Ronald W. Hull

6/22/07