Pushing up Daisies

Pushing up daisies is just my speed.
I'm mother nature and I feel the need,
to procreate.

I feel the need, to plant the seed,
that'll last for a millennium.

To lie in wait, until conditions are right,
to burst forth with all my minions.

To heal the scars of landscape Mars,
and shatter all pessimistic opinions.

For I am the mother of all invention.
I work my ways without intention.

But through the power of natural selection,
and survival of the fittest.

I turn bland to rich, and rich to wonder.
I do not pillage. I do not plunder.

So don't mess with me...

... or you will be pushing up daisies.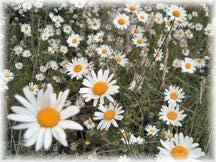 Photo by Dean Weir

Mail

More Poems

My Place

Read War's End, the Novel

Copyright 2008 © Ronald W. Hull

8/16/08