Pale Moon Setting

I spotted a pale Moon setting,
in the bright Monday morning sky.

I should have taken it as an omen,
but I let the thought pass me by.

Alex was brewing up a storm,
in the warm Caribbean sun.

Not to worry, I thought,
odds are hundred to one.

The devil is in the details,
and not in a clear blue sky.

I went about my business,
you know, working to just get by.

The market was as bright as the morning,
to catch the wave, I bought what I had sold.

By afternoon, the tide had turned,
my fast move was growing old.

The week went unexpected,
the market took a long, slow slide.

And I was down the chute,
taken, once again, for a ride.

By Friday all I had was work,
and Alex, that denied.

Streets turned into lakes,
and my van, no boat to ride.

I stayed home to write this poem,
and wait for a fairer tide.

Until the pale moon rises,
and I am on its right side.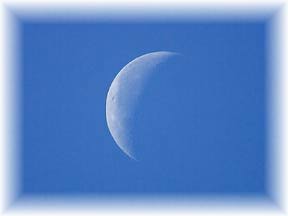 Pale Moon Setting

Mail

More Poems

My Place

Read War's End, the Novel

Copyright 2010 © Ronald W. Hull

7/2/10