One Night Stand

Pulled in at dusk,
my throat full of dust,
looking for love or lust,
followed by a cold beer.

This nondescript town,
in the middle of down,
their faces a frown,
what am I doing here?

It says I'm to play,
but at the end of the day,
I really can't say,
maybe the end of a career.

The piano's onstage,
it's showing its age,
when my fingers engage,
notes flow bright and clear.

I get my free drink,
and began to plink,
my voice starts to link,
one man at the bar,
gives a cheer.

They trickle in,
I sip on my gin,
I sing with a grin,
and without fear.

The crowd starts to warm,
they can do me no harm,
a few pats on the back,
and I'm out of here.

She came from behind,
hugged me with a grind,
her perfume was blind,
as she breathed in my ear.

With the night gone,
hand in hand, we stagger on,
to her flat just before dawn,
like we did last year.





When I finally wake,
I'm late for my next date,
coffee and a breakfast plate,
a kiss and pat on the rear.

Her eyes full of trust,
and my fulfilled lust,
I drive off into the dust,
and gradually disappear.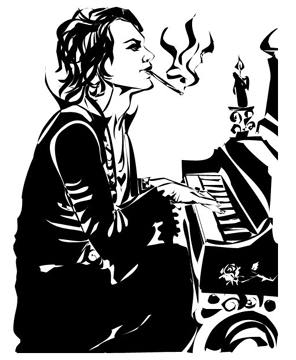 And He Plays On...

Mail

More Poems

My Place

Read War's End, the Novel

Copyright 2010 © Ronald W. Hull

11/13/10