Ole Lady Down

Dey be playing de dirge,
for dat old lady down.
Marching de streets,
Horns wailing sound.

But de streets, dey be empty,
water and mud all around.
De waters done muffled,
dat mournful sound.

Built with blood and sweat.
She's fought mo battles,
Ain't never gave in yet.

French, Spanish, English too,
her heritage is long and lineage blue.
But it's her spirit dat's forever young,
it's dat spirit where her hat is hung.

Cajun, Creole, Indian, Mulatto, true,
Built strong from de backs of de few.
De soul of her bein conjures up jazz.
Clowns, magicians and all dat pizzazz.

So if dey abandon her streets to de sea,
her souls will rise up and play for free.
Whenever a boatman will pass dat spot,
he'll hear her wail and drum beats a lot.

New Orleans, old New Orleans,
Katrina's done got ya down.
But you will rise from the waters again,
cause dey just can't keep…

A young lady down.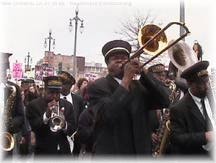 Photo Courtesy Sinkers.Org
Mail
More Poems
My Place



Copyright 2005 © Ronald W. Hull



9/2/05