Ode to Janis

Janis Joplin's heart was hoppin'
Down by the sugarcane.
Left her home oily Texas loam,
Westward, ho, she came.

Hitched a ride with Bobby McGee,
Windshield wipers clappin' time.
For the coast with the most,
Southern California sunshine.

She cried, cry--baby cried,
For her ball and chain.
Spilled her soul with a raspy roll.
In the Southern California rain.

Southern Comfort by the bottle
Couldn't ease the pain.
That punctuated her every song
With mournfully true refrain.

Rapid riches could not cure,
Her tormented piece o' heart.
Popping pills to cure her ills,
Played but one small part.

When her anguish became too much,
And her past prevented a new start.
Janis gave her life to heroin.
And left us all, apart.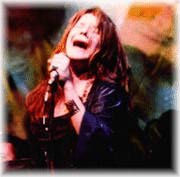 Mail
More Poems
My Place

Copyright 2003 © Ronald W. Hull

8/31/03