Night Terror

As the sun wanes in the evening sky,
birds flock home like days gone by.

Home to roost and home to nest,
to the place they've chosen best.

To keep their babies warm and well,
protect them from the pending hell.

That comes in the night.

A lightning flash is the first sign,
the storm is building fast.

Will the nest be strong enough,
to hold against the wild wind's blast?

Will the hail, hard and fast,
strip the tree leaf from limb?

And beat her senseless in the nest,
Trying to protect her young?

Or will the possum stick its pink nose in,
teeth bared, until she flies?

Taking eggs where the dinosaur lies.

Or the hand of the raccoon touches her side,
startled, she flies out somewhere to hide.

Only to return to an empty nest.

Sometimes, in the wee hours close to dawn,
comes the whisper of wings with talons on.

In the owl's grasp she struggles in vain,
beheaded in flight, her blood flows like rain.

If the eggs hatch at all, her chicks will die.
Such is the peril for the freedom to fly.

Such is the terror of the ancient night sky.



Image Courtesy LovelandPro.com

Mail

More Poems

My Place



Copyright 2006 © Ronald W. Hull



6/4/06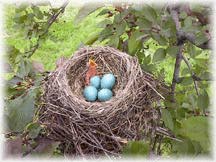 Image Courtesy Jody Ewing