My Butterfly

Outside my window,
you grace my view.
Sweet exhibitionist,
so drawn to you.

You flit and flirt,
with true abandon.
So starkly beautiful,
you can't be random.

So exquisitely you fly,
I want to join you.
I want to pirouette,
in the sun, too.

I'll pray to Buddha,
that in the next life.
I'll emerge from my cocoon,
and make you my wife.

For in my life,
nature no longer rules.
If I dance in the garden naked,
I'm carted off with the fools.

Since when did carefree,
become against the law?
Since when did freedom,
become shock and awe?

As I watch you stark naked,
displayed for all to see.
I ponder what beauty is,
in the beholder be.

I certainly would hate to see you,
wearing designer clothes.
Disguising your beauty,
while they stick up their nose.

It's a topsy-turvy world,
we both live in.
So for now I'll just watch you,
and suffer no sin.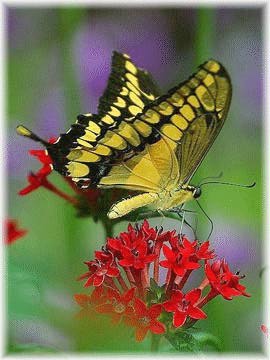 Koninginnepage harvesting nectar.
When I saw her outside my window, I couldn't resist…
Mail Me
More Poems
My Place

Copyright 2013 © Ronald W. Hull

9/7/13



It's in the Water and Other Stories