The Morning After

As the dawn broke,
on the terrible sight,
hardly anything,
had survived the night.

Candles were burned,
down to the core.
Smell of burnt pumpkin,
permeated the air.

Costumes were ripped,
and thrown asunder.
Poor souls that wore them,
still deep under.

Tricks that were played,
from plans well-made.
Would vex the town,
for the next decade.

When the mailman came by,
the dog tried to reply,
but it was still too hoarse,
from all that howling.

Cupboards were bare,
but mom didn't care,
she'd had enough candy,
to lure the darlings.

Speaking of candy,
we all know it's dandy,
but that stupor and after taste,
killed his randy.

And up on the hill,
the scarecrow is nil.
The crows snitched his clothes,
and perch on the sticks, so handy.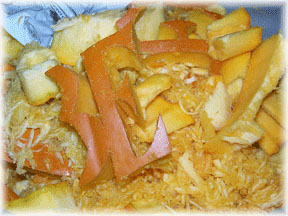 Image Courtesy KiwiPulse

Mail
More Poems

My Place

Read War's End, the Novel

Copyright 2009 © Ronald W. Hull

10/31/09