Morning After

The morning after I awoke,
to a whole new scheme,
like in a dream that ended.

A whole new place,
a whole new space,
like a plan unattended.

Upside down, turned around,
nothing seemed in place.
Nothing left for the race.

"This is for you." It said.
Looking around, might be dead.
It was a blank slate.

Not to my taste, this plate.
So from the tree of knowledge I ate.
Hoping it wouldn't be too late.

I cannot draw her face,
I cannot draw this place,
it's impossible to draw forever.

The morning after left an aftertaste.
Alas, I can't erase.
So I am starting over.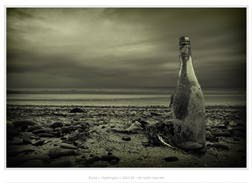 David J. Nightingale
Mail
More Poems

My Place

Read War's End, the Novel

Copyright 2009 © Ronald W. Hull

1/3/09