Moon Stroke

I felt a bit well rounded at the seams,
Moonbeams, jungle themes.

Dust choked, mind broke,
Going through the reams.

Altered states, lactating plates,
In the pale light of Moon dreams.

Blood broke, a token toke,
All is not what it seems.

Babies boiled, plans foiled,
The gargoyle of life teems.

Panties wet, life's a sweat,
Thrilled to your pagan genes.

Take your pick, it's a kick,
Love to hear its screams.

Going through the motions,
Powerful potions, wet jeans.

Moon spoke, I broke,
Captive to dream's moonbeams.

Moonrise at White Sands

Photo Courtesy National Park Service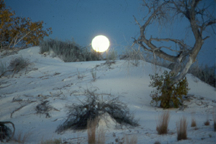 Mail
More Poems
My Place


Read War's End, the Novel
Copyright 2005 © Ronald W. Hull


4/16/05

Moon Struck at Full Moon Gathering

Photo Courtesy Anomoly.com