May Flies

May flies in the face of spring.
Rainbow catches her in mid flight,
just after the dawn's first light.

Misty tastes the green buds,
On a wild cherry tree.
A blossom bursts for me.

Moss gathers no speed in morning sun,
snail slimes on, on the run.
Mocking birds picking him off just for fun.

Dappled leaves rock to and fro,
as if undecided where to go.
Hiding the ants a leaf to row.

Downstream to wait watery fate,
under the clear blue sky.
A dangle of feet, you and I.

Soft moss engages your bottom,
the hot sun makes you wanton.
Sweat slides down your mountain.

As I climb to the sky,
and wet my whistle when it gets too dry,
before the sun passes the afternoon by.

Martins purple the coming storm,
we rush for cover, safe and warm,
as May flies like a fling.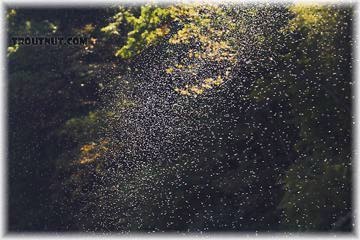 A Mayfly Hatch

Mail

More Poems

My Place

Read War's End, the Novel

Copyright 2010 © Ronald W. Hull

5/1/10