Looking for Spring

After a volcano eruption with winter
lasting more than three years..

Looking for spring after all this time,
to see the green grass sprout from the slime,
of dead vegetation, so filthy with grime.

To see the wildflowers, burst into view,
transforming the dreary with colorful hue,
beside the still waters, reflecting the blue.

Sky above, be no longer so dark,
Sun, please break through and mark,
the advent of spring and the song of the lark.

Before it's too late and there's none of us left,
we've seen enough violence, hatred and death,
we've seen enough till we breathe our last breath.

Now, the sunshine must breakthrough at last,
or the human race will become a thing of the past,
to the last man standing with a bone in his grasp.

We've had enough of cold, dead, red meat,
we long for the plants to stop their retreat,
we long for something healthy and decent to eat.

We long for to herald a new bright shining day,
and break through this gloom as we pine a way,
with its clouds creased forehead still held at bay.

From the nightfall that came and won't go away,
please spring, come back… come back today.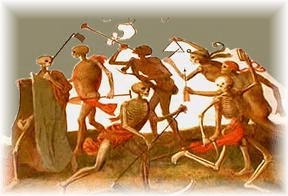 Danse Death by Kaspar Meglinger

Mail

More Poems

My Place

Copyright 2012 © Ronald W. Hull

3/15/12


It's in the Water and Other Stories