Lonely Birdhouse

Red and white by the highway caught our eye.
My wife was excited: "A birdhouse! Can we buy?"

A nice touch to our new house it did make.
Mounted on the back fence for when we awake.

Alas, it was mounted on a wood 2 x 4.
High in the air but not in birdhouse lore.

Black birds would sit for a moment, then fly.
Occasional birds would momentarily stop by.

But no purple martin in its right mind,
Would nest in a house that the cats could find.

The wooden post cats could easily climb,
On baby chicks they would love to dine.

So the trees grew and the birdhouse stood alone.
We divorced and its support reflected our home.

Faded and weak, the birdhouse fell down.
Efforts to fix it were met with a frown.

Finally it got painted; not red, but silver on top.
And languished months more until it was put up.

This time on a shiny smooth pole,
Assuming its familiar, lonely old role.

It's February, and the purple martins have arrived.
To my surprise, the birdhouse is suddenly alive.

After twenty-two years of lonely waiting,
It's filled with the happiness of anticipating.

The birth of a family.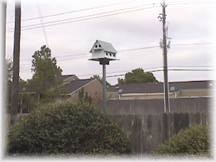 Copyright 2004 © Ronald W. Hull

3/22/04

Mail

More Poems

My Place

Read War's End, the Novel