Let It Go

Let go of this winter funk your in.
Take your clothes off,
open the drapes,
and let the sunshine in.

So, she let you down,
they let you down,
he let you down -- all three.

You can't change another person's mind,
by feeling sorry, sick and lonely.

Can't do it by getting drunk,
Not bathing, stinking like a skunk,
or wearing that pathetic look.

Get up and out of bed,
take your vitamins, clear your head,
and put your plan to ground.

Put on your running shoes,
your boxing gloves,
your swimming trunks,
or get on out of town.

Your whole life awaits you.
It's in you alone, that you must trust.
Forget what he, she, they think,
breakthrough with zest and thrust.

Yourself into the game of life,
play it to the hilt.
You'll never get anywhere,
on self pity, agony, and guilt.











So lift your head up from the sand,
and watch the stars come out.
Your life is a precious luxury,
don't drag it down with doubt.

And when the heat warms your body,
and you've cast the demons out,
your life will reach a fullness,
free to sing, dance and shout,

"Glory, hallelujah!, I'm out!"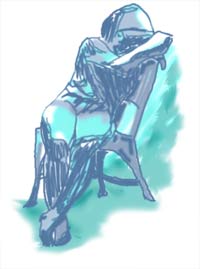 Image Courtesy About-Depression.com

Mail

More Poems

My Place

Read War's End, the Novel
Copyright 2006 © Ronald W. Hull

1/11/06