Last Man Standing


I'm the last man standing,
and I don't know why.
The last man standing,
and I think I'm gonna cry.

It wasn't because of that woman,
Eve's apple of my eye.
No, no, not that woman,
we just said, "Goodbye."

It wasn't in the ring,
that I fought for my soul.
There was no ring to hold me,
and no ring for my goal.

There was nothing to die for,
but so many did.
No ear or an eye for,
it just blew its lid.

The top came off,
a layer at a time.
Civilization came off first,
and then reason and rhyme.

I beat a path to nowhere,
and nowhere, I have found.
Nowhere is a very lonely place,
I don't want to hang around.

So, if you see me in limbo,
limbo is where I am at.
Cross my path to nowhere,
and that will be that.

For I will have to kill you,
oh, so lonely as I am.
There is no reprieve in nowhere,
and I am on the lam.

The devil is chasing me,
and the details are immense.
The devil is in the details,
and I cannot make amends.

My chances are all gone,
there are no chances left.
The world is on my shoulders,
and it's too much to heft.

But it's all... all I have left.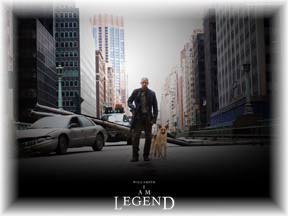 Will Smith is
The Last Man Standing
in the movie
I am Legend

This poem is a prelude to my
upcoming short story,
Last Man Standing.

Mail

More Poems

My Place

Copyright 2012 © Ronald W. Hull

1/5/12


It's in the Water and Other Stories