Kudzu Rising

With kudzu rising it's not surprising,
That the killer bee moves north.
The sparrow sings while the bee stings,
And the black starling has no worth.

Bamboo inches, its tendrils itches,
To slowly cover earth.
Eucalyptus grows in stately rows,
Pissing acid rain like it was Perth.

Fire ant mounds, daily hounds,
The grazing brahma's berth.
Kudzu crawls up our walls,
And peeks into our mirth.

Treetop high, it shades the sky,
Creeping beneath a sea of green.
Not the first, nor the last,
To conquer our pristine scene.

Asian men walked a thin slice,
Thirty thousand years before,
Crossing over a bridge of ice,
To reach this hallowed shore.

The steeds of conquistadors,
Came and played to preen.
The Irish come from Ireland,
For the "wearin' of the green."

And now the South is wearin' it,
As the kudzu crawls on north.
"Watch out bamboo, here I come."
Another alien among us, …
… for what it's worth!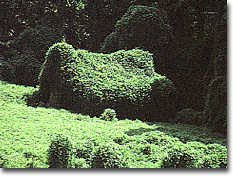 Photo by Jack Anthony
Dahlonega, Georgia

Copyright 2004 © Ronald W. Hull

4/4/04

Mail

More Poems

My Place

Read War's End, the Novel


Photo by Oregon Department of Agriculture