July

Picnic in the park,
until way after dark,
the smell of smoke in the air,
campfire laughter to the last spark.

Afloat on the water,
sun dancing off waves,
soaking in sunshine,
on these warmest of days.

Girls in bikinis,
a sight for sore eyes,
boys playing games,
showing off being guys.

Too much fun in the sun,
skin turning bright red.
can't sleep all night,
nightmares of hot dread.

A line in the water,
waiting for a nibble.
To catch a nice fish,
for the dinner table.

The corn is knee-high,
and the tomatoes near ripe,
berries are for picking,
green apples if you like.

In the middle of one of those,
hottest of the muggy days,
a storm will suddenly appear,
in the west, lightning displays.

A wall of white clouds,
followed by solid black,
the storm front rolls in,
like a freight train on track.

Everyone scrambles for cover,
with the wind on our back.
Heavy rain soon follows,
under shelter or shack.

The downpour turns to dribbles,
there is a cool tang in the air,
a rainbow appears in the east,
announcing the all clear.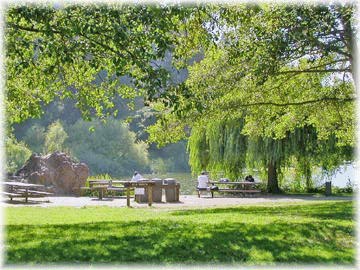 Image Courtesy FotoThing
The peak of summer always brings
back fond memories of hot days in the
sun, everything growing, and fun.
eMail Me

More Poems

My Place

Copyright 2014 © Ronald W. Hull

7/4/14




It's in the Water and Other Stories