Jazz

Feel the heat of the beat,
Cacophony of sounds.

Jungle night dark and deep,
A heavy warmth surrounds.

Holds you in its warm embrace,
Like a woman's secret place.

Lowdown dark and dirty in the night,
Story be told you know it's right.

Life ain't kind; it's taken the very best.
Chewed 'em up, spit out the rest.

So very late, when the night winds down,
There comes this deep down mournful sound.

Celebrating making another day,
What was given and taken away.

When all the instruments come together,
Smoke and alcohol combined--unwind.

A certain dissonance of brothers.
That stands out from all the others:

A melody of moods.
A tapestry of tune.

Casts off the gloom.
That greets the dawn.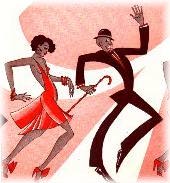 Cotton Club – Between the Devil and the Deep Blue Sea

Copyright 2003 © Ronald W. Hull

2/16/03

Mail

More Poems

My Place

Read War's End, the Novel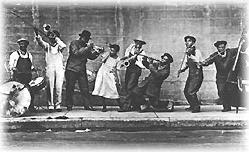 King Oliver's Creole Jazz Band - San Francisco 1921.