Jack Frost

Jack Frost travels far and wide,
covers the world in a single stride,
following the morning tide.

Jack Frost turns the world to white,
heralds the winter's come at night,
heralds its cold and gripping might.

Jack Frost nips at nose and ear,
dries the eyes and makes them tear,
but still is kids' happiest time of year.

Sunlight bright, Jack's delight,
it will melt him though…
clouds and snow, to hide he'll go,

Jack Frost creates a landscape scene,
softening all that was ever mean,
as if transferred from a white dream.

Jack Frost obscures window panes,
on houses, cars, and moving trains,
making driving cars almost insane.

And so it goes, when Jack Frost is done,
and we see the bitter winter sun,
we know we're in for winter's run.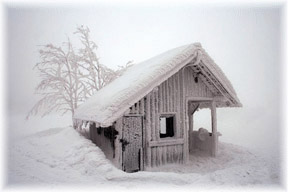 Image Source Unknown

Mail
More Poems

My Place

Read War's End, the Novel

Copyright 2009 © Ronald W. Hull

12/20/09